Live At De Boerderij DVD Now Available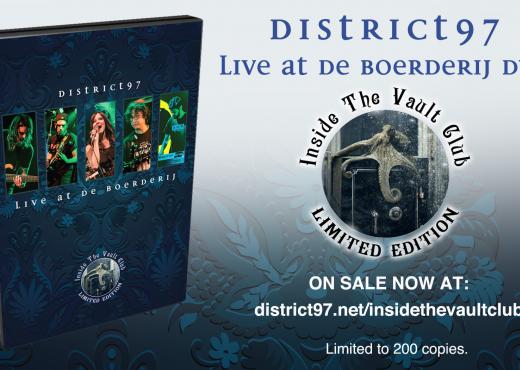 Submitted by

district97

on Wed, 04/12/2017 - 00:03
Our long-awaited Live At De Boerderij DVD is now available! Only 200 copies will be pressed, so you don't want to snooze on this one. Get your copy now by becoming a Premium Member (aka Keyholder) the INSIDE THE VAULT CLUB. Here's the press release to fill you in on all the details (You can also view it HERE via Prog Magazine):
Laser's Edge-signed modern/progressive rock act DISTRICT 97 has announced the release of LIVE AT DE BOERDERIJ on Tuesday, May 30th, 2017. Featuring the band in top form and packed with bonus features, the release will be limited to 200 autographed copies, and is available exclusively to Premium Members (aka Keyholders) of DISTRICT 97'S INSIDE THE VAULT CLUB.
Drummer, bandleader, and founding member Jonathan Schang says:
De Boerderij in Zoetermeer, Netherlands is a wonderful venue, and I'm so glad we were able to capture our performance at the 2016 Progdreams Festival so beautifully. This is undoubtedly the definitive audiovisual document of DISTRICT 97 to date, and I think it's an essential release for anyone who enjoys what we do.
Pre-order your copy now by joining the INSIDE THE VAULT CLUB as a Premium Member.
DISTRICT 97 LIVE AT DE BOERDERIJ DVD CONTENTS
Total Running Time Approx 104 Minutes
Recorded April 3rd, 2016 at De Boerderij Cultuurpodium, Zoetermeer, Netherlands.
Snow Country
Death By A Thousand Cuts
A Lottery
The Perfect Young Man
All's Well That Ends Well
Takeover
Read Your Mind
On Paper
BONUS LIVE PERFORMANCES
Recorded June 12th, 2014 at Martyrs' Nightclub, Chicago, IL
Handlebars
Blinding Vision (debut performance)
MUSIC VIDEOS
I Can't Take You With Me
Termites
Open Your Eyes
Snow Country
DOCUMENTARY FEATURETTE: Jonathan Schang & District 97: A Brief History (2015)
Receive your copy by signing up as a Premium Member at the INSIDE THE VAULT CLUB. Members will also receive exclusive content from DISTRICT 97 each month, the full Boerderij performance as an HD download at no additional cost, and a 15% discount on all items at the band's webstore.