FULL-LENGTH HD CONCERT VIDEO AVAILABLE THROUGH KICKSTARTER CAMPAIGN-ENDS DECEMBER 23RD AT 11:59 PM CST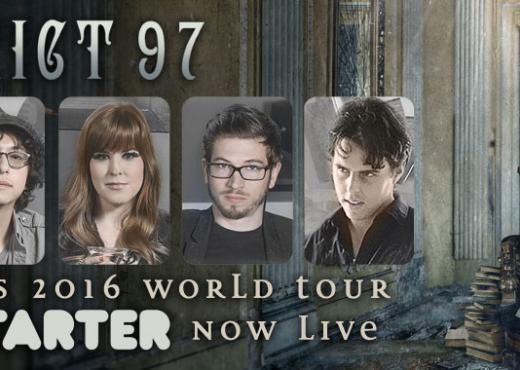 Submitted by

district97

on Mon, 12/14/2015 - 13:55
ANNOUNCEMENT: DISTRICT 97 TO RELEASE FULL-LENGTH HD CONCERT VIDEO THROUGH KICKSTARTER CAMPAIGN
District 97 will make available a complete show from 2014 featuring all of their critically acclaimed 3rd studio album, In Vaults, to backers of $50 or more at https://www.kickstarter.com/projects/1801575573/district-97s-in-vaults-2016-world-tour. The video will not be available after December 23rd, the final day of the campaign.
This hour-long show was filmed in HD with multiple cameras on June 12th, 2014 by Robert Martinez, and featured several debut performances. As a result, there are some significant and very interesting differences between these performances and what ended up on the studio album. Here is the full tracklisting:
1. Snow Country
2. On Paper
3. Learn From Danny
4. Handlebars
5. Death By A Thousand Cuts (debut performance)
6. All's Well That Ends Well
7. Takeover
8. A Lottery (Debut Performance)
9. Blinding Vision (Debut Performance)
"Takeover" can e previewed below. As a bonus, the band will also include their previously unreleased version of Katrina & The Waves "Walking On Sunshine" for fans who missed out on it earlier in the campaign.
Visit the In Vaults 2016 World Tour Kickstarter Campaign at https://www.kickstarter.com/projects/1801575573/district-97s-in-vaults-2016-world-tour