LIMITED-EDITION LIVE DOUBLE CD AVAILABLE EXCLUSIVELY THROUGH KICKSTARTER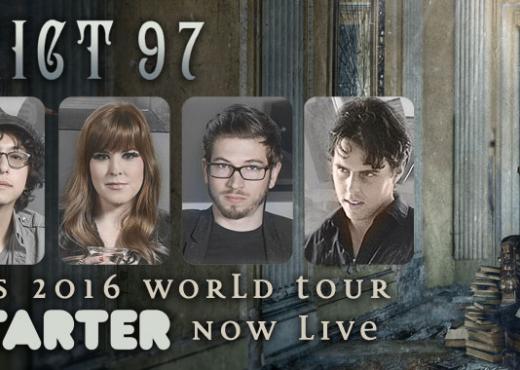 Submitted by

district97

on Fri, 11/20/2015 - 00:36
ANNOUNCEMENT: DISTRICT 97'S FIRST DOUBLE LIVE CD OF ORIGINAL MUSIC AVAILABLE EXCLUSIVELY IN THE 2016 WORLD TOUR KICKSTARTER, LIMITED TO 150 COPIES.
Exclusively available for backers at https://www.kickstarter.com/projects/1801575573/district-97s-in-vaults-2016-world-tour, District 97 will be releasing an official double live CD limited to 150 copies, never to be available again after December 23rd. Here's is the description from the Kickstarter (not mentioned is that all copies will also be autographed):
LIMITED EDITION OFFICIAL DOUBLE LIVE CD PACKAGE-This one is a doozy. We know a lot of our fans prefer physical media to downloads, so this is for you. We are releasing our first live album EXCLUSIVELY THROUGH THIS CAMPAIGN, AND LIMITING IT TO 150 COPIES. After it's gone, it will not be available anywhere else, ever again.
Disc 1 will feature our entire 70 minute END OF AN ERA performance, which was our last with the original lineup, recorded on August 21st, 2015 at Reggie's in Chicago. It was an emotional night for all of us. but we think that served the music well. So, we're proud to offer a "warts and all" document of that very important night.
Disc 2 will be culled from the upcoming World Tour and feature exclusive tracks not available in the download version. The package will be professionally mixed and mastered by Mike Pietrini (who did One More Red NIght). It will also feature professional artwork in keeping with our visual standards and will be pressed on genuine CDs. We'll also throw in lossless downloads as well. This is a must have for the true D97 fan!
You'll also get the TOUR DIARY, the EXCLUSIVE LIVE ALBUM, and the TOUR SHIRT WITH YOU LISTED AS A TOUR SPONSOR.
Full tracklisting and more info is available at https://www.kickstarter.com/projects/1801575573/district-97s-in-vaults-2016-world-tour/posts/1420735
Copies are extremely limited and going quickly so reserve yours now at https://www.kickstarter.com/projects/1801575573/district-97s-in-vaults-2016-world-tour