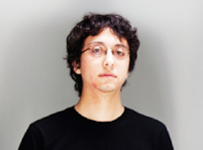 From the age of four years old, Jonathan Schang has been devoted to the pursuit and creation of original music. After studying percussion and music theory extensively throughout his education in Oak Park, IL, Jonathan spent his freshman year of college in 2002-2003 at Boston's illustrious Berklee College of Music. He returned to Chicago to study jazz drumset with Paul Wertico at the Chicago College of Performing Arts, whereupon he graduated with a BA in Jazz Studies in 2005. Shortly thereafter, he founded District 97 with three fellow CCPA students.
In addition to his activities with District 97, Jonathan is one of Chicago's busiest and most in-demand Modern and Ballet dance accompanists. This involves playing primarily improvised music on keyboards and/or drums (often simultaneously as a "one-man band") in support of the dancers' movement. He has also been commissioned to compose and perform for a number of performances, recitals, and classes by companies and schools such as Joffrey Ballet, Hubbard Street Dance, Deeply Rooted Dance Theater. Columbia College Chicago, Chicago Academy for the Arts, Ballet Chicago, Thodos Dance Chicago, Hyde Park School of Dance, and Intuit.
Jonathan has performed on live TV and in concert with pianist and former Miles Davis Musical Director Robert "Baabe" Irving III, and is a five-time winner of Chicago's Union League Club Jazz Competition (now Luminarts) in both improvisation (2004. 2005, 2006, 2007) and composition (2007). In 2013, Jonathan joined Simon Collins (son of legendary Genesis vocalist/drummer Phil Collins) and John Wesley (Porcupine Tree, Fish) for the inaugural live show of Simon's band, Sound of Contact, at Marillion Montreal Weekend.
In 2012, Jonathan was nominated in Modern Drummer Magazine's Readers Poll in the "Best Up & Coming Drummer" category and finished among the Top Five in 2016's "Best Prog Drummer" category among such heavyweights as Gavin Harrison, Todd Sucherman, Matt Garstka, and Marco Minnemann. He was also featured extensively in the September 2015 issue of Modern Drummer Magazine.
Jonathan proudly endorses Tama Drums, Paiste Cymbals, Promark Drumsticks, and Evans Drumheads.
"Jonathan writes and plays like a demon."
- Bill Bruford (Yes, King Crimson, Genesis, U.K. Earthworks)
---
Videos