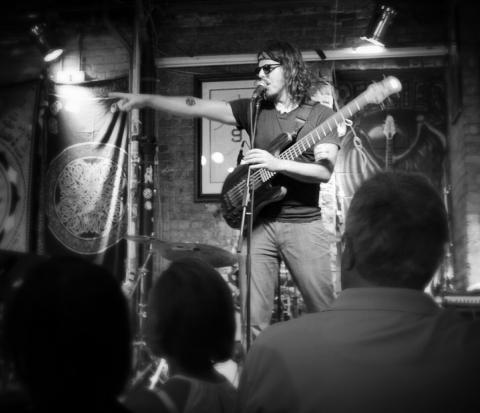 Tim Seisser grew up in Arlington Heights, IL, where he began playing bass at age thirteen. Quickly progressing technically and musically, he started gigging at age sixteen in the Chicagoland-area. As a high school senior in 2001, he traveled to New York City with the jazz big band YJED to perform at the 6th Annual Essentially Ellington Festival at Lincoln Center. That same year, Tim was named recipient of the Robert Calisch Fine Arts award.
Tim moved to Chicago in 2004 and began his career as a full-time musician. It did not take long to become one of the city's most in-demand sidemen/bassists. His fluidity between genres has afforded him the opportunity to perform with a wide range of talent, including smooth jazz guitarist Nick Colionne, virtuoso multi-instrumentalist Howard Levy, drummer/producer Makaya McCraven, jazz/fusion keyboardist Greg Spero, Brazilian jazz artist Luciano Antonio, and many more. In addition to his activities with District 97, Tim can regularly be seen performing around Chicago with fusion powerhouse The Renegades, neo-soul artist William Kurk Enterprise, jazz/fusion horn band New Nostalgia, and jazz vibraphonist Stephen Lynerd Group. Tim boasts an impressive recording resume and has appeared on recordings alongside Gavin Harrison (Porcupine Tree, King Crimson), Bob Minzter, Will Kennedy (The Yellowjackets), Allen Vizzutti (jazz trumpeter), and Khari Parker (Destiny's Child, Boz Scaggs, George Benson), among others.
Wire and Wood. Tim's first album as a leader, was released in 2008. It received acclaim from jazz reviewers and has been played on multiple Chicago-area jazz stations including WDCB and WNUA. That's Not Jazz (2010), T.S.5 Live! (2011). and One For All (2013) soon followed. His latest solo release is Solitude (2019), which showcases his technical prowess on unaccompanied bass guitar.
Tim is an alumni of Victor Wooten's Bass/Nature Camp and has had the privilege to study with Victor Wooten, Steve Bailey, Adam Nitti, Chuck Rainey, Jeff Berlin, and Kelly Sill. Tim was a staff writer for the online publication Bass Musician Magazine. As a luthier, Tim runs his own bass guitar custom-build/repair shop, LowDown Bass Guitars. He has exhibited at many regional and national guitar shows including the winter NAMM show in Anaheim, CA.
---
Videos