One More Red Night Now Available Worldwide!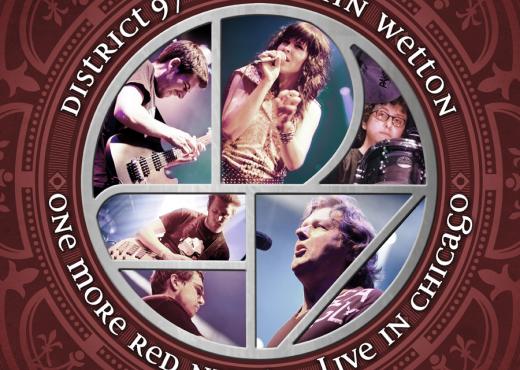 Submitted by

district97

on Tue, 10/14/2014 - 14:41
NOTE; YOU CAN NOW PURCHASE ONE MORE RED NIGHT DIRECT FROM THIS WEBSITE AT http://www.district97.net/store/one-more-red-night-featuring-john-wetton
For Immediate Release

District 97 Featuring Legendary King Crimson/Asia Vocalist John Wetton Release One More Red Night: Live In Chicago CD – OUT NOW!
London, UK – Prog fans rejoice! A new live CD capturing a set of King Crimson songs performed by District 97 and former King Crimson lead singer John Wetton has been released on Primary Purpose via Cherry Red Records.
'One More Red Night: Live In Chicago' includes three songs from the iconic landmark album 'Red'; which inspired many musicians including Kurt Cobain. This CD also captures several other well-known songs from the three King Crimson studio albums John Wetton played and sang on, plus their earlier hit "21st Century Schizoid Man". This is the first release of this recording and features many tracks which are now rarely heard live.
"I've said it before, and I maintain that D97 is the best young progressive band around right now. Gifted players, great material, and a brilliant, charismatic singer in Leslie Hunt. Their shows are an exciting pleasure to attend, and I am proud to work, and be associated with them." - John Wetton, Annapolis, October 1,2014.
District 97's drummer and 'One More Red Night' producer, Jonathan Schang, says "The first Crimson song I ever played live with John was 'Lament'. To hear 'that voice' coming from right in front of me, seemingly made only stronger by the passage of time, was an experience I shall never forget. Getting to know John more closely, both as a musician and a human being, is an honor and a privilege. I'm thrilled that our joint interpretations of his iconic work with King Crimson are now available for all to enjoy."
TRACK LIST:
1. ONE MORE RED NIGHTMARE
2. THE GREAT DECEIVER
3. LAMENT
4. THE NIGHT WATCH
5. FALLEN ANGEL
6. BOOK OF SATURDAY
7. 21ST CENTURY SCHIZOID MAN
8. STARLESS
9. EASY MONEY
To purchase District 97 & John Wetton 'One More Red Night: Live In Chicago':
Amazon US: http://www.amazon.com/More-Night-District-With-Wetton/dp/B00N3SE9US/
Amazon UK: http://www.amazon.co.uk/More-Night-District-With-Wetton/dp/B00N3SE9US/
Cherry Red: http://www.cherryred.co.uk/shopexd.asp?id=4842
iTunes US: https://itunes.apple.com/us/album/one-more-red-night-live-in/id912870501
iTunes UK: https://itunes.apple.com/gb/album/one-more-red-night-live-in/id912870501

District 97's last album was Trouble with Machines, features a guest appearance by John Wetton on the mini-rock opera, "The Perfect Young Man":
Amazon: http://www.amazon.com/Trouble-With-Machines-CD-DVD/dp/B0082GN8Z8
iTunes: https://itunes.apple.com/us/album/trouble-with-machines/id545414289
John Wetton's last solo project was a 2 CD re-issue of Monkey Business and Jack-knife, the former of which includes many of his early 1970s versions of tracks that went on to become some of King Crimson's most iconic songs:
http://www.amazon.com/Jack-Knife-Monkey-Business-John-Wetton/dp/B00I4583HK/
http://www.amazon.co.uk/Jack-Knife-Monkey-Business-John-Wetton/dp/B00I4583HK/
https://itunes.apple.com/gb/album/jack-knife/id889141024
https://itunes.apple.com/gb/album/monkey-business-feat.-richard/id889182992
Official websites: www.district97.net & www.johnwetton.com